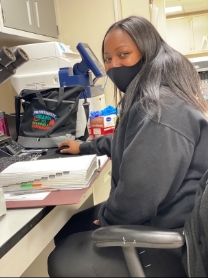 Robin Jones is the Clinical Coordinator in the Lab here at The Loretto Hospital. Her role is to process the pathology reports for the medical staff, oversee Point of Care, prepare specimens to be outsourced to external labs, and assist the supervisor and director with ancillary lab responsibilities. She has been here for almost 8 years and says, "I like working here at Loretto because it feels like a big family."
Robin, a lifelong Chicago resident, got into health care because she loves helping people. She was drawn to phlebotomy after working as a Registered Medical Assistant. Robin recognized that she "wanted more insight into what goes on inside the lab" and went onto work as a phlebotomist in the Loretto Hospital laboratory.
When asked about significant accomplishments in her life, Robin cites graduating with her Registered Medical Assistant Certification as an important milestone on her journey and remarks that she draws inspiration from her grandparents every day.